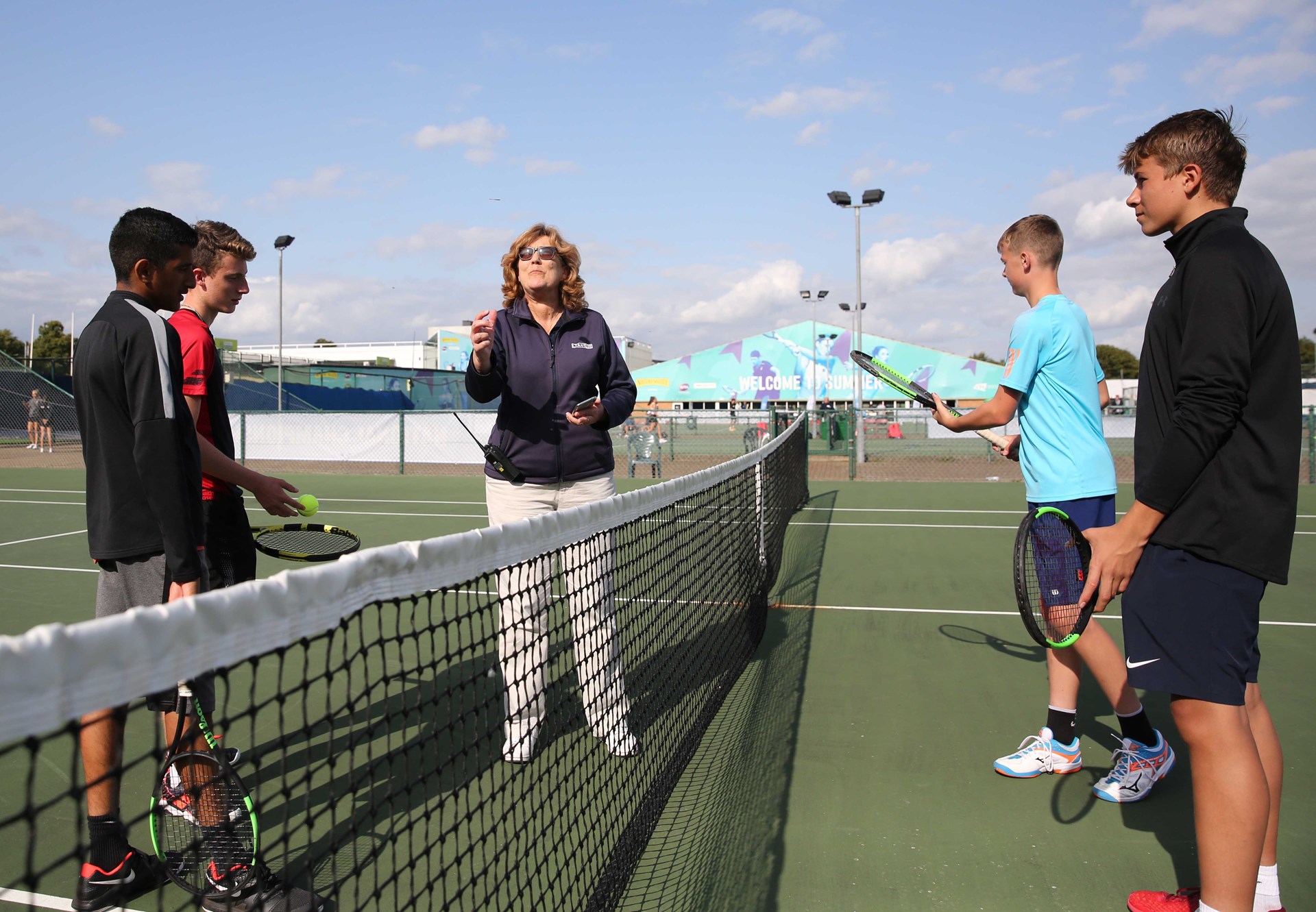 Why be a Tennis Official?
The main reason would be an active interest in the sport and a willingness to contribute to the sport of tennis. From which, you could gain a greater appreciation for the game and build relationships within the tennis community. The satisfying reason is to be part of a team of officials who make a tennis event successful for players and spectators.
So what are the different types of official?
Court Supervisors: Being a Court Supervisor is a great way to get involved in tennis at the grassroots level. They are responsible for monitoring a number of courts at a tournament or competition. They assist and educate players, parents and coaches and help with the smooth running of an event. Other important roles of Court Supervisors are to help enforce the Rules of Tennis and Code of Behaviour, as well as resolving on court queries. To become a Court Supervisor you need to be over 16 and attend a FREE 3 hour online course.
Referees: The Referee is the expert in all things rules and regulations. Referees supervise all aspects of a tournament, from taking charge of the draws and schedules, to enforcing the rules and making sure everything runs smoothly and in the spirit of fairness. Being a Referee requires exceptional knowledge of the rules of tennis, the ability to multi-task in a pressured environment, and to listen and communicate well with everyone involved with the tournament. To become a tennis Referee you must complete and pass a two day course. Once passed you will be able to referee and organise LTA Grade 4, 5, 6, 7, Mini-Tennis and Matchplay competitions.
Tennis Competition Organisers: These are individuals who run and organise competitions at a recreational level. In addition they can often help referees organise and deliver larger County, Regional and National events. To become a Competitions Organiser you need to be over 16 and attend an online 3 hour course (current cost = £25). The course will cover all the basics on running a local LTA Grade 6, 7 tournament as well as ungraded events.
Line Umpires: Line Umpires get to call the shots – literally – at all levels of tournaments, from grassroots all the way through to the Grand Slam Tournaments. It might appear simple, but the best Line Umpires need to be able to concentrate for long periods of time, be team players, and of course require excellent eyesight. As well as calling the lines, they act as an extra pair of eyes and ears for the Chair Umpire. Becoming a Line Umpire is the quickest pathway to getting on court at tennis tournaments around the world. You will need to attend and pass a one day basic Line Umpire course and be over 16 years old to be able to apply.
Chair Umpires: Aside from the players, the Chair Umpire is the most important person on court during a match. The Chair Umpire has enormous responsibility during a match and is responsible for everything from calling the score to enforcing the rules and managing the players. A successful Chair Umpire needs great communication skills, the ability to stay calm under pressure and 20:20 vision. The best Chair Umpires work full-time in the role, travelling the world with the tennis tour.
For more information please go to: Start Your Officials Journey